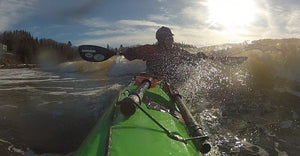 Our Paddle Canada Level 2 Sea Kayak Course will bring you to the tidal region around Deer Island where you will learn to combine your level 1 skills and expand on them to navigate the dynamic waters in the area.
Upon completion of the course, the student will be able to confidently sea kayak in class-2 conditions along moderately exposed shoreline in the company of one or more paddlers with similar skills and knowledge. The Level-2 paddler will be an asset to the group in all aspects of multi-day journeys with peers, including leadership, navigation skills and the ability to establish an overnight bivvy.
Overview
Prerequisites
Certification: Sea Kayak Level-1 Skills certification or equivalent skill and knowledge at the discretion of the course director.
Paddling experience: At least 3, one-day-long kayaking trips in Level-1 conditions in different locations.
Other training: Wilderness first aid (16 hours) with CPR strongly recommended.
Conditions
Moderately exposed coastline with frequent easy-landing opportunities and short crossings. Moderate potential wind effects (22-35 km/h or 12–19 knots), surf of less than 1 meter and a combined sea state of less than 1 metre, gentle to moderate non- turbulent currents (< 6 km/h or < 3 knots), and light surf beaches. Short delays in access to land-based assistance should be expected.
Re-entry Skills
Re-entry Skills
Assisted Re-entry
All-in Re-entry
Bow Rescue
Re-entry Exercises or Scenarios
Introduction to Rolling
Towing
Paddling Skills
Launching and Landing
Forward Stroke
Turning Strokes

Sweep Strokes
Low and High Brace Turns
Bow Rudders

Low & High Braces
Draws

Draw Stroke
Sculling Draw
Hanging Draw
Stern Draw and Stern Pry

Paddling in Rough Water
General Knowledge
Equipment
Introduction to Tides & Currents
Wilderness Navigation Techniques and Chart/Map Work

Navigation Techniques
Nautical Charts and Topographic Maps
Other Navigation Tools or Activities

Weather Interpretation and Basic Forecasting
Heat and Cold Issues
Emergency Overnight
Leadership and Decision Making
Risk Assessment, Incident Management and Evacuation Options
Knots & Ropework
Collision Regulations
Not Included:
Meals (restaurant and takeout available on the island)
Lodging (campground available on the Island)
Equipment (Rental Equipment available at extra cost)