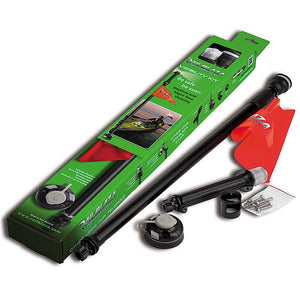 We all know that the more visible you are on the water, the safer you are, especially in rough conditions or in shipping lanes. Now you can buy everything in one kit to give day and night visibility when on the water in your kayak or canoe.
The Visibility kit consists of our popular Telepole (extends from 550mm to 1050mm), Florescent orange flag which clips to the Telepole & NEW RAILBLAZA NaviLux 360 light which plugs into the TelePole.
The NaviLux 360 is 200mm in length which will take your total height above the deck to 1250mm when the TelePole is fully extended. The NaviLux 360 comes with a directional light shield to avoid effecting night vision especially when repositioned to other StarPort mounts in your cockpit area.
The TelePole can also be retasked to carry a GoPro camera or similar on during daylight hours.
Kit includes:
Orange visibility flag
Directional light shield
StarPort and stainless steel mounting fasteners